MILCO Wire EDM Services
Innovation Through Technology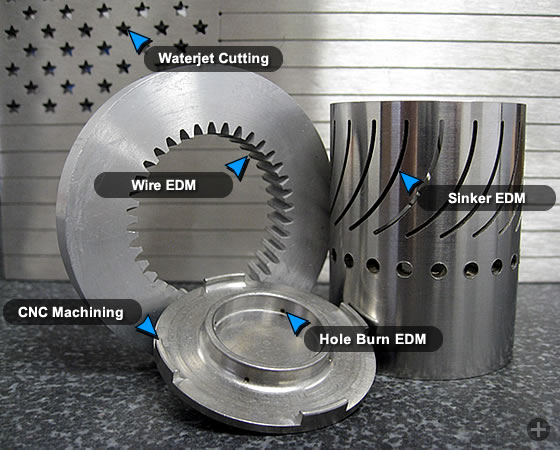 Mouse over capability types for description and corresponding page link
Precise, Reliable, Consistent, Affordable EDM Services

MILCO Wire EDM, an AS9100 Certified EDM services provider, offers top quality electrical discharge machining services and has been the industry leader since 1990. With capabilities of Wire EDM, Small Hole EDM Drilling, Conventional / Sinker EDM and Water-jet services. Catering to all aspects of manufacturing industries, including: Medical, Surgical, Aerospace, Missile, Defense, Aeronautical, Satellite, Tool and Die, Stamping, & Commercial. MILCO Wire EDM has been far exceeding customers' and clients' standards, we hold a reputation of the fastest turnaround and highly competitive pricing. We here at MILCO have a highly trained and skillfully dedicated staff, who strive to make every effort possible to surpass and exceed our customers' expectations. Call us today for a free estimate and quotation. Send us an email or fax us your prints, drawings, files or questions so we can help your ideas or products come to life!
High Quality EDM Cutting & Prototyping
Achieving high accuracy and tighter tolerances is essential for many industries such as aerospace, medical, injection molding and tool and die. With Electrical Discharge Machining we can produce and repeat the required specifications with ease. Contact MILCO Wire EDM for all of your electrical discharge machining needs including, EDM drilling machines, Small Hole drilling machines, Sinker machines and Wire electrical discharge machining.